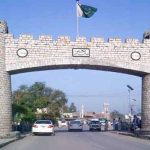 ISLAMABAD: Pakistan and Indonesia have agreed to enhance bilateral cooperation to further strengthen defence and trade relations.
The agreement was reached during a meeting between President Mamnoon Hussain and his Indonesian counterpart Joko Widodo in Islamabad.
Both the leaders stressed that expanded trade, investment and economic cooperation should be a vital element in their relationship.
President Hussain said both countries can utilize expertise of each other in defence production.
The two sides also agreed that peace in Afghanistan is necessary for development and prosperity of the region.
He said Pakistan and Indonesia have similar views on international issues and should work together.
The Indonesian president said his country can play a positive role in the peace process of Afghanistan. He proposed the establishment of a committee of Indonesian, Afghan and Pakistani Ulema for this purpose.
Addressing a joint sitting of the parliament on Friday, President Widodo said not a single country is immune to terrorism, including Indonesia and Pakistan.
He said Muslims are the biggest victims of conflicts and wars.
Widodo shared the data about the incidents of terrorism in the Muslim world, saying 76 per cent of terrorist attacks took place in the Islamic countries, while they also bore the brunt of 60 per cent of armed conflicts worldwide.