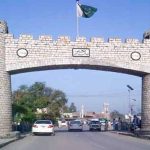 THE HAGUE: Pakistan Monday informed the International Court of Justice (ICJ) about Indian RAW agent Kulbhushan Jadhav's terror activities in Pakistan and urged the court to reject the Indian application as inadmissible.
While delivering the arguments before the ICJ, Mohammad Faisal, DG (South Asia & SAARC) of Foreign Ministry said that Pakistan would not deter in fight against terrorism and those sponsoring terror could not shake its resolve.
He informed the court about RAW agent terror activities in Pakistan. He said that the counsel for Pakistan Khawar Qureshi would argue about the admissibility of the Indian application.
"Pakistan will not be cowed down by terrorists and utilise all legal means to safeguard its people and soil," he said.
"Kulbhushan Jadhav confessed to having conspired to fan terrorism inside Pakistan, while the passport, he was found in possession of, bore a Muslim name," he added.
"The court can see the passport bore a Muslim name and the copy of which was also provided to Indian authorities, but New Delhi has been unable to provide an explanation of it," the Pakistani diplomat said.
Dr. Faisal was followed by Pakistan's counsel in the case, Khawar Qureshi, who is currently presenting his arguments in the case.
The hearing into India's petition demanding staying of Pakistan's death sentence to RAW agent Kulbhushan Jadhav is currently under way in the ICJ.
Earlier, joint secretaries at the Indian External Affairs Ministry, Dr Deepak Mittal, Dr VD Sharma, and Indian counsel Harish Salve completed their statements before the judges.
The Indian side focused on expressing its reservations over the fairness of Jadhav's trial in Pakistan by an army court as well as lack of mercy shown by the Pakistani side, saying the jailed Indian national was not allowed to meet his mother.
The Indian delegation comprised five members whereas the Pakistani side consists of six individuals, including a European lawyer and members of the diplomatic corps.
Qureshi requested the court to declare Indian petition inadmissible. He said that Indian government maintained silence over bogus passport seized in possession of RAW-sponsored terrorist, Jadhav.
The counsel cited Vienna Convention on Diplomatic Relations of 1961 to challenge ICJ's jurisdiction in the case. Qureshi also exposed Indian hypocrisy before the esteemed panel by informing that Indian team concealed the fact that Pakistan had handed over evidence to Indian government in the case.