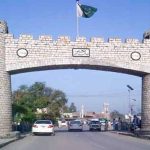 TEHRAN: Chief of Army Staff (COAS) General Qamar Javed Bajwa met Iranian Defence Minister Brigadier General Amir Hatami and visited Islamic Revolutionary Guard Crops (IRGC) HQ where he interacted with senior leadership during second day of the visit.
According to an ISPR statement issued on Tuesday, Iranian defence minister thanked the COAS for his visit, acknowledged achievements of Pakistan army in war against terrorism and expressed his country's willingness to enhance defence cooperation. He said, "our policy is to develop relations wiht out neighbours and Pakistan has a special place in Iranian foreign policy".
The COAS highlighted that with the improved special measures by Pakistan on Pak-Afghan border, terrorists are likely to exploit Pak-Iran friendly border and both countries need to put in efforts to deny its use by them.
Both sides agreed to ensure that their soil is not used by any third party against any of the two countries. In this regard steps including establishment of hotline communication between the field commanders along Pak-Iran border, fencing by Iran on their side of the border, coordinated border patrolling, intelligence sharing and more frequent interactions were agreed to, the ISPR concluded.