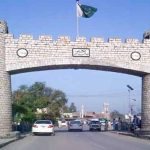 ISLAMABAD: Pakistan's High Commission in New Delhi has issued visas to to the mother and wife of Kulbhushan Jadhav to visit Islamabad to meet him.
The development was confirmed by Foreign Office spokesperson Dr Mohammad Faisal in a message he posted on Twitter today.
Former Indian naval officer Kulbhushan Jadhav was arrested in March 2016 in the southwestern province of Balochistan for entering Pakistan on fake identity documents to plot subversive acts.
A military court tried and sentenced him to death in April, ruling "the serving commander of the Indian navy" was found guilty of espionage and terrorism against the country.
Acting on a request through diplomatic channels from Jadhav's family, Pakistan conveyed to India last month it was ready on "purely humanitarian grounds" to arrange a meeting with his wife and mother.
"The visit should happen on December 25, 2017. A diplomat from the Indian High Commission in Islamabad will be allowed to accompany the visitors. Requisite security would be provided to the visitors," foreign ministry spokesman Mohammad Faisal told reporters during weekly press briefing last Friday.
Jadhav has filed an appeal with Pakistan's military chief, General Qamar Javed Bajwa, to seek clemency, which is still pending.
In a transcript of his confession, which was released by Pakistan's military, Jadhav said a major goal he was assigned by the Indian intelligence agency was to disrupt a multibillion-dollar infrastructure project in Pakistan being funded by China.