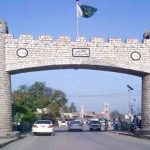 NEW YORK: Foreign Minister Shah Mehmood Qureshi has warned India that if it did any venture across the LoC, or acted upon its doctrine of limited war against Pakistan, it will evoke an effective, strong and matching response.
Talking to media persons in New York, he said India had frequently violated the ceasefire along the Line of Control in Kashmir in an attempt to divert the world's attention from its brutalities in Kashmir, but Pakistan acted with restraint.
He said internal politics is dominated on Indian leaders and they preferred politics on peace.
He said Pakistan knows to defend its interests and ideology.
The Foreign Minister said his meeting with the United Nations Secretary General remained fruitful. He said the UN Secretary General will visit soon visit India and Pakistan.
He said Pakistan supports comprehensive reforms in the United Nations.
Shah Mehmood Qureshi said with raising the issue of blasphemous caricatures in the United Nations, Pakistan reflected the sentiments of the Muslim world.
The Foreign Minister said during the last six days, he held fifty-four meetings with the world leaders including the Chinese and Russian Foreign Ministers and apprised them about Pakistan's stance on different global issues.
He said the prevailing situation in the Middle East is a matter of deep concern for Pakistan.
Shah Mehmood Qureshi said a trilateral meeting of the leaders of Pakistan, China and Afghanistan will be held in December to ponder over the present situation in Afghanistan and exploring solution to the Afghan issue.
The Foreign Minister said he will hold talks on bilateral issues during his meeting with the US Secretary of State Mike Pompeo on Tuesday.