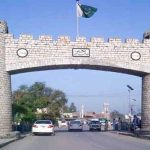 ISLAMABAD: Pakistan has lodged strong protest with India over deliberate targeting of civilians along the Line of Control.
The Director General South Asia and SAARC, Dr. Mohammad Faisal, summoned the Indian Deputy High Commissioner, J.P. Singh in the Foreign Office today and condemned the unprovoked ceasefire violation by the Indian occupation forces on last Saturday in which 18 years old Muhammad Atique embraced martyrdom.
Foreign Office DG said deliberate targeting of civilians is indeed condemnable and contrary to human dignity and international human rights and humanitarian laws.
He urged the Indian side to respect the 2003 Ceasefire Understanding and instruct the Indian forces to respect the ceasefire in letter and spirit and maintain peace on the Line of Control.