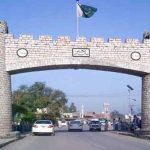 ISLAMABAD: Pakistan on Tuesday lodged a strong protest with India and the United Nations Military Observers group in India and Pakistan (UNMOGIP) over the killing of two civilians in 'unprovoked' firing across the Working Boundary a day earlier.
Pakistan summoned Indian Deputy High Commissioner JP Singh and lodged a strong protest against ceasefire violations along the Working Boundary by Indian border forces, Foreign Office sources said.
An infant and an elderly man were killed and seven people were injured in heavy mortar shelling by the Indian Border Security Force (BSF) in villages along the Sialkot Working Boundary on Monday.
The attack came in the dead of night when residents of villages in Bajwat, Chaprar, Harpal, Sucheet­garh, Merajkey and Charwah sectors were asleep, senior officials of the Punjab Rangers said.
A strong protest was also lodged with the UNMOGIP "regarding unprovoked firing by Indians across the Working Boundary," Inter-Services Public Relations said.