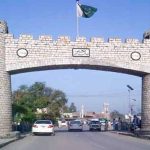 WASHINGTON: "Pakistan would continue to strive for peace in the region and around the world and looked forward to continued United States cooperation and support", Pakistan's Ambassador to the US Jalil Abbas Jilani told DC-based Women's Foreign Policy Group at the Pakistan Embassy on Thursday.
Giving an overview of the US-Pak relationship, he informed the group about the inherent strength and resilience of the bilateral ties based on the shared objectives of democracy, mutual respect, peace and prosperity.
These common goals, the ambassador emphasised, had held the two countries together in some of the most testing times in the recent history.
Ambassador Jilani also briefed the group about the positive results of Pakistan's ongoing military operations along the border to eliminate terrorism.
Talking about the regional political landscape, Jilani stressed that Pakistan was pursuing the policy of a peaceful neighbourhood while taking affirmative actions to improve relations with its immediate neighbours.
He elaborated how Pakistan and the US joined hands in the common objective of promoting peace in the region through the Quadrilateral Coordination Group (QCG) process aimed at facilitating talks between relevant stakeholders in Afghanistan.
During the recent Brussels Conference, Pakistan had also committed an additional $500 million for development projects in Afghanistan, he added.
Reiterating Pakistan's vision to normalise relations with India, Ambassador regretted how the intransigence of the present Indian leadership was compromising prospects of peace in the region by resorting to repeated violations across the line of control (LOC) and intensifying its brutal crackdown against Kashmiris demanding their right to self-determination promised to them by the world and India.
Ambassador Jilani insisted that war was not an option for Pakistan and India and tensions between the two would not only retard economic growth and affect regional peace. It was imperative, he said, that India should resolve all issues including the Kashmir dispute as per the international laws.