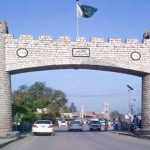 MUTLAN: Foreign Minister Shah Mehmood Qureshi has emphasized that it was utmost effort of Pakistan that the Afghan peace process resumes and reaches its logical conclusion to cultivate the benefits of peace and prosperity in the region.
After having a key meeting with a delegation of the Taliban Political Commission (TPC) in Doha in the Ministry of Foreign Affairs, Islamabad, Foreign Minister Shah Mehmood Qureshi addressing a ceremony in Multan and termed his meeting "positive and satisfactory."
The foreign minister warned against the spoilers saying there were certain elements who do not want peace and stability in the region, especially such elements who couldn't see Pakistan making progress on the economic front.
He said Pakistan has also suffered immensely because of instability in the neighbouring country. He said Pakistan continues to host 2.7 million Afghan refugees.
He noted that peace in Afghanistan would help create immense economic opportunities. "This will help us attract investment and create job opportunities for our youth."
Earlier today, the Taliban delegation led by the head of TPC Mulla Abdul Ghani Baradar and senior members of the Commission met Mr Qureshi and other officials as Pakistan plays an active role in resumption of halted peace talks. This is the first ever visit of a Taliban delegation to Pakistan since the establishment of the TPC.
Mr Qureshi welcomed the delegation, and noted that while the people of both Afghanistan and Pakistan have a shared history, geography and culture, Islam remains the strongest bond between the two brotherly countries. He added that the people of both countries had also suffered tremendously due to 40 years long conflict and instability in Afghanistan. It was time to make all possible efforts for an early, peaceful resolution of the conflict in Afghanistan.
Mr Qureshi added that Pakistan would continue to support all efforts to achieve permanent peace in Afghanistan which was essential for Pakistan's own socio-economic development and progress. He added that Pakistan had wholeheartedly supported Afghanistan in its difficult times during the past four decades. "In line with the teachings of Islam and as part of its moral obligation as a friendly neighbour, Pakistan has hosted millions of Afghan brothers and sisters during this period.
All these years Pakistan has also kept reminding the world not to overlook the hardcore political, economic, socio-cultural and ethnic ground realities in Afghanistan and its immediate neighbourhood."
Qureshi pointed out that Pakistan has maintained for several years that there is no military solution to the complex situation in Afghanistan. "An inclusive peace and reconciliation process, involving all sections of the Afghan society, was the only, practical way forward."
Foreign minister further noted that the direct Taliban-US talks since last year, strongly and sincerely supported by Pakistan, had now laid a firm ground for achieving a sustainable peace deal in Afghanistan. A pacific settlement of the conflict would lead to a significant reduction of violence, end of bloodshed and long-term peace, stability and prosperity for future generations of Afghanistan.
While appreciating Taliban's serious engagement in the peace process, he underscored the need to take these efforts to their logical conclusion. He noted that the existing, broad regional and international consensus for achieving peace in Afghanistan at the earliest provided an unprecedented opportunity that must not be lost. "It is up to the parties to the conflict in Afghanistan to grasp this opportunity." FM Qureshi expressed the hope that the currently paused peace process would be restarted at an early date.
Thanking Pakistan for the hospitality, the TPC delegation appreciated Pakistan's support for peace in Afghanistan. Both sides agreed on the need for earliest resumption of the peace process. Foreign Minister reiterated Pakistan's commitment and continued strong support for all efforts in this regard. It was emphasised that reduction of violence by all parties to the conflict was necessary to provide an enabling environment for resumption of the peace process at an early date.