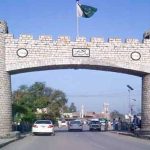 PANJSHIR: State Minister for Sates and Frontier Regions and Narcotics Control, Shehryar Khan Afridi says Pakistan is making all possible efforts to further the Afghan peace process.
In a statement issued from Panjshir, Afghanistan, he said the historic visit of the United States by Prime Minister Imran Khan has laid a new foundation for the Afghan peace and development.
Earlier, upon arrival, Afghan Minister for Public Health Dr Ferozuddin Feroz and Deputy Governor Siddiqi welcomed the minister. Later, Shehryar Afridi held detailed talks with the local leadership.
Shehryar Afridi also visited the mausoleum of late Afghan Commander Ahmed Shah Masood and laid a floral wreath on his grave.