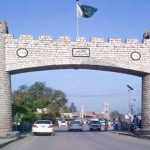 ISLAMABAD: Foreign Minister Shah Mehmood Qureshi said Thursday night Pakistan desired peace and that it was India that attacked the country first.
Speaking to CNN's Christiane Amanpour, Qureshi underscored that New Delhi violated the Charter of the United Nations, worsening the situation and fuelling tensions.
"Pakistan never wants to escalate," the minister told Amanpour, adding that after the Pulwama attack, Prime Minister Imran Khan very clearly said he would take action if India had any proofs and shared them with Pakistan.
However, Khan's decision to release captured Indian pilot, Abhinandan, and send him back home will hopefully diffuse the current hostility between the two neighbouring nations.
Confirming the prime minister's decision, Qureshi added: "He made a statement when he was addressing the joint session of Parliament.
"This was a goodwill gesture and we feel that this should be an expression of Pakistan's willingness to deescalate. We're willing to hand him over as soon as possible … perhaps tomorrow," the foreign minister noted, in response to Amanpour's question about the seriousness of the state of affairs.
Qureshi also reiterated that Pakistan wanted peace with India and was playing an important role in the peace process going on in Afghanistan.
Both US Secretary of State Mike Pompeo and the US Special Representative for Afghanistan Reconciliation, Zalmay Khalilzad, have acknowledged Islamabad's constructive role in regional and Afghan peace process, he added.
Earlier, in Geo News' programme Aaj Shahzeb Khanzada Kay Sath, Qureshi said there has been no response from India over Pakistan's "goodwill gesture".
Pakistan, with its goodwill gesture, has conveyed a positive message to those in India who are sensible, the FM noted.
The foreign minister said he believed that Indian Prime Minister Narendra Modi is probably hesitant and being concerned that he would impact his position further should he try contacting Pakistan.