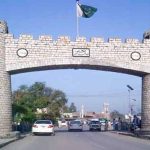 ISLAMABAD: Pakistan on Sunday opened Pak-Afghan border crossing points at Chaman and Torkham after temporary closure owing to parliamentary election in Afghanistan.
The border crossings remained closed for two days due to the election in the war-ravaged country.
Earlier on Friday, Foreign Office Spokesperson Dr Muhammad Faisal in a statement said that the crossing points have been closed on the Afghan request.
The spokesperson said the decision has been taken to support Afghanistan in smooth conduct of upcoming parliamentary elections
Dr Muhammad Faisal said both the crossing points will remain closed for all kinds of traffic except emergency cases.
Meanwhile, Afghans unable to vote in Saturday's parliamentary election after hundreds of polling stations failed to open were given another chance to cast their ballot on Sunday after voting times were extended despite security threats and warnings of fraud.
Around three million Afghans voted on Saturday, election officials said but across the country there were complaints that polling stations remained closed, often because staff failed to turn up.
The United Nations Assistance Mission in Afghanistan issued a statement saying it was encouraged by the high numbers who voted on Saturday, many of whom endured long delays due to technical and organizational problems.
"Those eligible voters who were not able to cast their vote, due to technical issues, deserve the right to vote," it said.
The Sunday extension was made for 401 polling stations, and 500 extra officials were deployed.