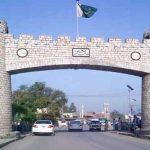 GHOTKI: The Parliament of Pakistan has representatives from all the minority communities, said Prime Minister Shahid Khaqan Abbasi during an event organised by the Hindu community in the district on Saturday.
The premier said he was surprised over United States President Donald Trump's statement regarding minorities not having religious freedom in Pakistan. Abbasi added he wanted to tell the US that minorities in Pakistan co-exist in peace.
He said everyone is equal under the Constitution. "Today's Pakistan is as much yours as its mine." The premier said that be it the federal government or provincial it is vital for all of them to protect the rights of minorities.
However, Abbasi condemned the killing of two brothers in Mithi, Tharparkar, saying people behind the murder will be taken to task.
The two men were killed a few days back when they were tried to resist a robbery attempt.