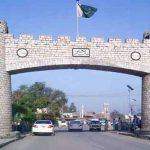 ISLAMABAD: Pakistan Railways has started limited train operation across the country from Wednesday with 15 up and 15 down trains facilitating passengers during Eid-ul-Fitr.
Subak Kharam was the first train from Lahore to depart for Rawalpindi at 06:30 AM today and Pakistan Express from Rawalpindi to Karachi. Railcar left for Lahore from Rawalpindi.
Train operation from Karachi was resumed by Awam Express which departed for Peshawar. Schedule of other trains is as follows:
Tezgam from Karachi to Rawalpindi: 06:00 PM
Green Line Express from Islamabad to Karachi: 03:00 AM (Thursday)
Pak Business from Karachi to Lahore: 04:00 PM (Thursday)
Pak Business from Lahore to Karachi: 04:30 PM (Thursday)
Jaffar Express from Quetta to Peshawar: 09:00 AM (Thursday)
Jaffar Express from Peshawar to Quetta: 09:30 AM (Thursday)
All precautionary measures have been taken at railway stations. Furthermore, the administration has announced that tickets can only be reserved online. Booking offices remain closed as per standard operating procedures (SOPs).
Passengers are advised to maintain a reasonable distance from each other, travel with minimal people in case of emergency and keep mask, sanitizer, gloves and soap with them. Booking will be closed after 60% occupancy.
Sanitizer walk-through gates have been installed railway stations. Passengers are allowed to enter the station only one hour before the departure of the train while their families are not permitted to enter.
Medical officers and staff have been deployed at train stop stations to ensure social distance. The temperature of all passengers is being checked during the journey.