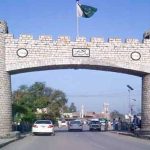 ISLAMABAD: Minister of State for Communications and Postal Services Murad Saeed on Tuesday launched the Electronic Money Order (EMO) service for speedy transfer of funds.
He inaugurated the EMO service in Islamabad through which money up to Rs50,000 can be transferred at very nominal charges ranging from Rs 50 to Rs 600.
The minister also launched same day delivery service of Pakistan Post in major cities of the country.
The service will allow customers for quickly transferring money within the country. It is available in all 83 GPOs throughout Pakistan.