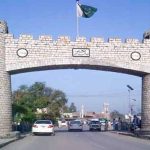 ISLAMABAD: Federal Minister for Science and Technology Fawad Chaudhry on Tuesday announced that Pakistan has prepared drones for the agriculture sector.
In a post on the social-networking website Twitter, the minister said that the drones can spray 16-liter pesticide in 18 minutes and can also identify the affected areas of the crops.
A drone equipped with the latest technology is the new revolution in the agriculture sector, he added.