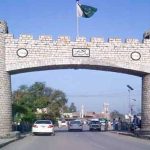 MULTAN: Former prime minister Syed Yousaf Raza Gillani Tuesday said India-Israel nexus is a big threat to Pakistan and the powers matter in the region should play their role in balancing the situation for the sake of peace in the region.
Responding to a query in a press conference held at Gillani House on rejoining PPP by Mirza Nasir Baig, when he asked Gillani threats for Pakistan after Netanyahu-Modi meeting and Israeli efforts to access Afghanistan, he said the India-Israel nexus is a threat to Pakistan and question on Pakistan's foreign policy.
He said the country was already facing difficult time and India-Israel nexus would deepen the dilemma in Pakistan. He said that it is only Pakistan can fight against terrorism and he strongly condemned Indian aggression at Line of Control.
He said the PPP was demanding for appointment of permanent foreign minister since the PML-N had taken over power.
He said Pakistan's enemies were conspiring against the country after China-Pakistan Economic Corridor and Gwadar projects. They want to destabilize the country, already facing political instability.
The former prime minister said that United States is important ally to Pakistan and there is a need not only continuing relations with US but also establishing deep bond of friendship with US. He acknowledged Central Intelligence Agency (CIA) role on extended help to Pakistan in tracing high valued targets in tribal areas. Pakistan should promote mutual contacts with US keeping in view of country's interest.
He said Pakistan has deep and long partnership with US, which needs to be strengthened at all levels between both the countries. Pakistan has sacrificed a lot in war on terror.
He said the PPP only joined Dr Tahirul Qadri's protest for the sake of justice instead it was part of electoral alliance with Qadri. The PPP stands with Dr Tahirul Qadri to assure justice for Model Town killings of innocent people instead PPP had no agenda.