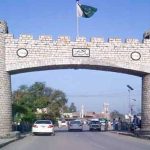 BEIJING: Prime Minister (PM) Imran Khan on Friday addressed the opening ceremony of Second Belt and Road Forum in Beijing, where he asserted that Pakistan is proud to have partnered and pioneered with China in the Belt and Road Initiative (BRI), and China-Pakistan Economic Corridor (CPEC).
The premier said Pakistan has been among BRI s earliest and most enthusiastic proponents.
He said the CPEC, one of BRI s major components and one of its earliest manifestations, has made substantial progress. Pakistan s energy supplies have increased massively and our critical infrastructure gaps are being plugged.
PM Khan said Gwadar, once a small fishing village is transforming rapidly into a commercial hub and its airport will be the largest in the country.
"Pakistan and China are now entering the next phase of CPEC, with greater emphasis on socioeconomic uplift, poverty alleviation, agricultural cooperation and industrial development."
"We are expanding the frontiers of knowledge through closer engagement and deeper cooperation in the fields of education, innovation and technology," he added.
The premier maintained that along the length of the corridor, Special Economic Zones would be established, offering opportunities for investments for Pakistani, Chinese and foreign entrepreneurs.
He said supplementing the next phase of CPEC, Pakistan is signing an expanded Pakistan-China Free Trade Agreement (FTA).
He also invited the participants to avail the liberal foreign investment regime offered by Pakistan, in particular infrastructure, railways, dams, IT and manufacturing. "We are changing Pakistan s economic landscape and the destiny of our people."
He expressed his gratitude to Chinese leadership for their unwavering support for Pakistan, and said, "Our deep-rooted friendship, partnership and brotherhood with China remains strong, resilient and unbreakable, standing tall in the face of every challenge."
Drawing the attention of forum participants towards joint efforts to mitigate climate change, the prime minister said we successfully planted five billion trees in Khyber Pakhtunkhwa (KP) province of Pakistan.
He suggested the forum to initiate a joint project to plant 100 billion trees in next two years to mitigate the effects of climate change for the next generations.
He also proposed establishment of a BRI Tourism Corridor to promote people-to-people contacts, and inter-cultural understanding.
To combat the scourge of white-collar crime, Mr Khan urged establishment of an office of an anti-corruption cooperation.
He said that a poverty alleviation fund that could supplement national efforts in a fight against poverty and malnourishment is the need of the hour.
He gave an example of Pakistan, where the government has recently launched a targeted poverty alleviation programme called Ehsas (feeling). "The aim should be to emulate China s spectacular success in lifting 800 million people out of poverty within three decades."
The PM also urged concerted efforts to further liberalise trade and investment flows encouraging our private sector and businesses to collaborate in projects.
He said Pakistan would partner with all those (countries) who share a vision for a peaceful and prosperous world.
Speaking at a luncheon hosted by China-Pakistan Friendship Association and International Cultural Communication Centre in Beijing, PM Khan emphatically stated that Pakistani nation and government fully support the multi-billion dollar project of CPEC.
Referring to the achievements of China in poverty alleviation and in the field of science and technology, he said Pakistan also sought Chinese cooperation in these two areas to move forward.
He said CPEC, being a part of the Belt and Road Initiative, has proved to be a blessing for Pakistan as it gave the country an opportunity to catch up with other nations.
"Pakistan is supporting peaceful settlement of the Afghan conflict through dialogue with all stakeholders."
Regarding relations with India, he expressed hope that India would initiate a dialogue process after conclusion of the Indian General Elections 2019.
In his keynote speech at the opening ceremony of the Second Belt and Road Forum for International Cooperation in Beijing, Chinese President Xi Jinping said that high-quality, and sustainable infrastructure should be constructed under the BRI.
"Building infrastructures with effective standards can be beneficial for many countries in terms of utilisation of resources, and integration into a global supply chain, industry and value chains for interconnected development," President Xi said.
"China would continuously open up its market and welcome quality products from around the world besides further lowering the tariff rate."
He said China would negotiate and sign high-standard FTAs with several other countries.
Later, PM Khan attended a dinner at the Great Hall of the People in Beijing, hosted by Chinese President Xi Jinping. Upon arrival, the prime minister was warmly welcomed by the Chinese president.
The World Bank Group (WBG) has pledged to further strengthen cooperation with Pakistan in the areas of disbursements programme lending and guarantees provision for raising external funds.
WBG Chief Executive Officer (CEO) Kristalinea Georgieva met PM Khan on the sidelines of the second BRI Forum in Beijing yesterday.
He appreciated the role played by the WBG in regional connectivity, poverty alleviation, financial management, provisional projects, Dasu and other infrastructure projects and ease of doing business.
He informed the CEO about the recent steps taken by the government for improving the economic and fiscal situation in the country.
He also apprised the CEO regarding the socio-economic uplift measures taken up by the government and creation of "Ehsaas" social welfare programme.
Moreover, PM Imran Khan held a meeting with Tajik President Emomali Rahmon on the sidelines of the event, and discussed matters of mutual interest to enhance bilateral relations between both countries.