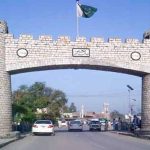 LAHORE: Deploring 'unprecedented' atrocities being committed by Indian forces in held Kashmir, Punjab Governor Chaudhry Muhammad Sarwar on Saturday renewed the Pakistan Tehreek-e-Insaf (PTI) government's offer for India to either share or bring to light evidence for a probe into the Pulwama incident.
"Pakistan's silence should not be deemed as its weakness," he warned in a statement. "We are even ready for probe into [Indian] allegations."
Talking about the recent arrests of politicians at the hands of the National Accountability Bureau (NAB), the governor said the government or any other state institution had nothing to do with these arrests.
"All institutions are working independently," he asserted, stressing the need for debate on the matter in Parliament.
He suggested that politicians should desist from laying bare the flaws in the system before the public.
"Our senior minister was arrested yet we didn't criticise [NAB]," he said, calling for depoliticizing institutions.
Referring to opposition politicians' seeking bail before arrest to avoid being caught by the corruption watchdog, he said Punjab's former senior minister Aleem Khan did not do so.