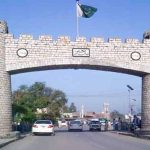 LAHORE: Foreign Minister Shah Mahmood Qureshi has said that National Action Plan (NAP) on terrorism is being implemented to make country abode of peace and stability.
Addressing a ceremony in Lahore on Monday, he said Pakistan has registered unparalleled successes in the war on terror.
The Foreign Minister said Pakistan is a peace loving nation but warned India not to challenge the resolve and determination of its youth. He said the youth of the country is laced with patriotism and has the potential to take forward the country on the path of development.
Shah Mahmood Qureshi said the country also gave a clear message to the world through its response to the Indian aggression that this is not an old but new Pakistan.