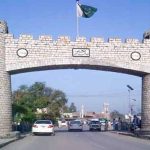 ISLAMABAD: The National Security Committee (NSC) on Wednesday condemned the recent wave of attacks by the Indian forces in India-held Kashmir that resulted in the death of 20 civilians and caused injuries to hundreds of innocent men, women and children.
"The continued inhuman and incessant use of pellet guns against innocent protesters and funeral processions has once again resulted in injuries to hundreds of Kashmiris," read a statement issued after the NSC meeting, which was chaired by Prime Minister Shahid Khaqan Abbasi.
The committee praised "the extraordinary courage and resilience of Kashmiri people in the face of Indian brutalities and systematic violations of their human rights," adding that "the purely indigenous character of this uprising has once again belied the false propaganda by the Indian government."
The committee reiterated Pakistan's commitment to political, diplomatic and moral support for the people of India-held Jammu and Kashmir "in their just and legitimate struggle for their right to self-determination" — also promised to them by the unanimous resolutions of the UN Security Council.
Furthermore, it decided to raise the issue of unprecedented Indian brutalities at both bilateral and multilateral fora.
The 20th meeting of the NSC was attended by Chief of Army Staff General Qamar Javed Bajwa, federal ministers Khawaja Asif and Ahsan Iqbal and National Security Adviser Nasser Khan Janjua among others.