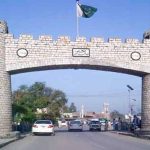 ISLAMABAD: Pakistan has refused a request by India to allow Indian President Ram Nath Kovind to fly through its airspace towards Iceland on September 8 due to New Delhi's recent "behaviour."
"The decision has been taken in view of India's behaviour," Pakistani Foreign Minister Shah Mehmood Qureshi said in a statement.
In another setback to deteriorating relations between Pakistan and India, Mr Qureshi put the responsibility of simmering tensions on India due to its oppression in occupied Kashmir, where stringent curfew has been imposed since August 4.
While talking the national television, Mr Qureshi maintained that India's "barbarism" in Kashmir was a serious issue which he would take up with the United Nations Human Rights Council.
He observed that 34 days have elapsed since Indian authorities have lockdown the entire region with more than 9 million people.
The minister mentioned that Pakistan has shown restraint in reaction to India's unilateral moves in occupied Kashmir while New Delhi has been denying basic needs and human rights to the people of Kashmir.
Earlier in February, Pakistan closed its airspace to Indian traffic when Indian Air Force (IAF) had violated its airspace along the LoC, ratcheting up tensions between nuclear-armed Islamabad and New Delhi. It reopened its skies for all civilian traffic in July, ending months of restrictions affecting major international routes.