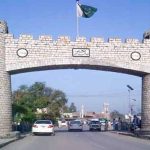 ISLAMABAD: The National Command and Operation Centre (NCOC) reported 3,387 new cases in the 24-hour period, taking the nationwide tally to 225,283 across Pakistan.
In the last 24 hours, Pakistan reported 11,469 recoveries and 68 more deaths. The country's death toll stands at 4,619.
The Khyber Pakhtunkhwa has reported another 19 deaths to bring its death toll to 1,002.
Seven fatalities were reported from Peshawar, four in Dir Lower, three in Abbottabad, two in Malakand, and one each in Chitral Lower, Bajaur and D I Khan.
Health officials also reported 336 new cases, taking the total to 27,506.
Another 805 patients recovered in the past 24 hours, taking the tally to 15,520. A total of 156,253 tests have been conducted in the province so far.
Global coronavirus cases exceeded 11 million on Friday, according to a Reuters tally, marking another milestone in the spread of the disease that has killed more than half a million people in seven months.
The number of cases is more than double the figure for severe influenza illnesses recorded annually, according to the World Health Organisation.
Many hard-hit countries are easing lockdowns put in place to slow the spread of the coronavirus while making extensive alterations to work and social life that could last for a year or more until a vaccine is available.
Almost 30% of genome sequencing data from samples of the Covid-19 virus collected by the World Health Organisation (WHO) have shown signs of mutation, but there is no evidence this has led to more severe disease, a top WHO official said on Friday.
"I think it's quite widespread," Soumya Swaminathan, WHO chief scientist, told Reuters on the sidelines of a briefing held by the UN journalists' association ACANU in Geneva.
The UN agency has so far collected 60,000 samples of the disease, she said.