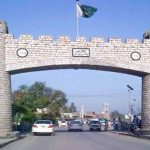 PESHAWAR: One more polio case surfaced in North Waziristan on Thursday, taking the total number of poliovirus cases in Pakistan to 12 this year.
According to Health Department, the latest case was detected in a 21-month-old boy from Mir Ali area of North Waziristan. He had onset of paralysis on June 18, according to Pakistan National Polio Laboratory at the National Institute of Health, Islamabad.
According to preliminary investigations, the child has been paralyzed in the right leg.
The restive North Waziristan, the southern district of Khyber-Pakhtunkhwa, have become the hotspot of wild polio virus. All the 12 children confirmed with wild polio as of June this year belong to North Waziristan, where more cases are expected following polio outbreak and high refusal rates and instances of finger-marking without vaccination during campaigns.
Bannu also reported two positive environmental samples between April and May this year, confirming that ongoing wild poliovirus transmission is not limited to North Waziristan.
Since the first case reported in the district in April, Pakistan Polio Programme has had repeated immunization campaigns in North Waziristan and other southern districts in order to strive to ensure that the virus does not spread. However, the government has failed to control the outbreak.
The closest Pakistan have come to eradicating polio was in 2021 when it had a single case in a year which had onset of paralysis on 27 January in Killa Abdullah, Balochistan. Prior to the poliovirus outbreak in North Waziristan earlier this year in April, Pakistan had spent 15-months without detecting a single case of the virus, the longest such period in its history. In December last, UNICEF had signaled of polio eradication in Pakistan after only a single case was reported in year of 2021.