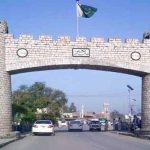 RAWALPINDI: Spokesman of Pakistan Army, Major General Babar Iftikhar, in his message on the occasion of "Youm-e-Takbir" has paid tribute to all scientists and engineers from the Armed Forces.
In a tweet on social networking site Twitter, DG Inter ServicesPublic Relations (ISPR) Major General Babar Iftikhar wrote that Pakistan successfully restored the balance of power and established credible minimum nuclear deterrence in the region on May 28, 1998, and it was only possible thanks to tireless efforts of the scientists and engineers of the program.
The DG ISPR wrote that the Armed Forces salutes all those involved, especially the engineers and scientists, in everything from conceptualization to actualization of the program, for making this vision a reality.