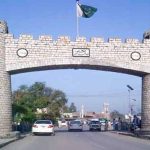 ISLAMABAD: Pakistan and Russia have agreed to promote friendly bilateral ties to the level of strategic partnership.
This understanding was reached during a meeting between Foreign Minister Shah Mehmood Qureshi and Russian Ambassador Alexey Dedov in Islamabad today (Thursday).
During the meeting, they discussed bilateral cooperation in trade, investment, energy, law and order, and defence sectors.
Foreign Minister Shah Mehmood Qureshi lauded Russia's efforts for peace in Afghanistan.
The Ambassador assured Shah Mehmood Qureshi of Russia's cooperation in various sectors.