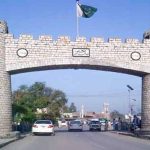 ISLAMABAD: Prime Minister Imran Khan on Tuesday said that without a shadow of doubt, the attack on Pakistan Stock Exchange (PSX) in Karachi yesterday which led to the martyrdom of two guards and a policeman before security forces killed all four attackers, was orchestrated in India.
Addressing the National Assembly session on Tuesday, he said that the group armed with guns and grenades attacked the PSX in a bid to take hostages, adding that the country's intelligence agencies were on high alert.
"Even the world's powerful army cannot stop such attacks," he said and paid rich tribute to the security agencies.
"I want to thank our security agencies for their hard work and dedication," he remarked. The PM was speaking about the attack on Pakistan Stock Exchange building on Monday. Four terrorists were killed before they could enter the building.
"I want to take this forum to acknowledge our four heroes who lost their lives yesterday [in an exchange of fire with the terrorists]. This includes Sub Inspector Shahid, and three security guards posted outside the building Ifthikar, Khuda Yar and Hasan Ali," he said.
Regarding lockdown in the country, Imran Khan said that he cannot shutdown the entire country by imposing lockdown, adding that he was never in favour of imposing complete lockdown.
Appreciating the performance of his team, the prime minister said that his government tried to keep our construction industry running. "When we opened our markets and economy, it is only then that others agreed that a smart lockdown is the only way to combat the pandemic."
The entire service sector is affected by pandemic restrictions, he said. People in North who relied on tourism are suffering now along with small private schools.