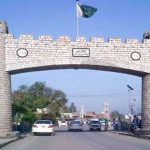 KARACHI: Pakistan Stock Exchange (PSX) CEO Richard Morin resigned on Tuesday with his resignation being accepted by the Board of Directors.
According to reports, Richard Morin's resignation came after he was issued a show cause notice over conflict of interest.
Richard Morin had joined the PSX as the first–ever non-Pakistani CEO in January 2018.
Richard Morin completed his B.Sc in Economics from the University of Montreal and an MBA from McGill University. He co-founded Montreal-based investment manager Landry Morin Inc. He has also headed Stock Exchange of Mauritius. Richard Morin had also been vice president of National Bank Securities.