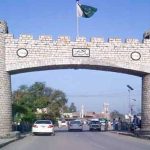 ISLAMABAD: Foreign Office Spokesperson Nafees Zakaria strongly condemned the "continuous unprovoked" firing across the Line of Control (LoC) and said that Pakistan Army responding in befitting manner.
Nafees Zakaria said that the whole nation salute our valiant soldiers who render ultimate sacrifices for national cause.
Seven Pakistani soldiers were killed Sunday night during cross-border firing across the Line of Control, the Inter-Services Public Relations (ISPR) said. "Seven soldiers embraced shahadat at the LoC in the Bhimber sector in a ceasefire violation by Indian troops late last night."
Pakistani troops responded to 'unprovoked' Indian firing, and targeted Indian posts effectively, ISPR said.
Pakistani authorities last week lodged protests with India as well as with the UN military observers over targeting of civilian populations as the civilian death toll from Indian shelling has risen to at least 26 in the past few weeks. Another 107 have been injured.
The Pakistani FO protested at least five times during the past five weeks over targeting of civilian populations.
Cross-border firing appears to have become a routine as tensions simmer between Pakistan and India following an alleged 'surgical strike', unrest in Kashmir and the Uri army base attack.
The Indian deputy high commissioner has been summoned to the Foreign Office several times in protest against 'unprovoked' Indian fire and loss of lives due to incidents of cross-border firing.
Indian Prime Minister Narendra Modi stepped up a drive to isolate Pakistan diplomatically after the Uri army base attack last month. Hours after the attack occurred, Indian Home Minister Rajnath Singh termed Pakistan a 'terrorist state' and accused Pakistan of involvement.
The Uri attack occurred days before Prime Minister Nawaz Sharif was set to address the United Nations General Assembly regarding Indian human rights violations in held Kashmir.
Following the attack, India claimed it had conducted a cross-border 'surgical strike' against 'launch pads of terror' in Azad Jammu and Kashmir — a claim Pakistan has strongly rejected.
Pakistan maintains that India is attempting to divert the world's attention away from atrocities committed by government forces in India-held Kashmir.
Pakistan and India have, most recently, locked horns over Kashmir since Indian forces stepped up a crackdown against protesters after Hizbul Mujahideen commander Burhan Wani was killed by government forces in July.