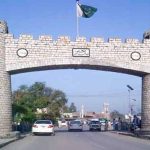 ISLAMABAD: The Foreign Office (FO) on Saturday summoned Indian Deputy High Commissioner J.P. Singh for the second straight day to lodge protest over the recent ceasefire violations.
At least four people had embraced martyrdom and 20 others sustained injuries in unprovoked firing and shelling by the Indian Border Security Force in different sectors of the Working Boundary and Line of Control, according to Dr. Muhammad Faisal, spokesman for the Foreign Office.
Faisal, who is also Director-General South Asia, handed over a protest note to the Indian diplomat, condemning the use of heavy artillery on the Line of Control and Working Boundary, targeting civilians.
He said Indian forces have breached the ceasefire on more than 150 occasions this month alone.
The spokesman said despite calls for restraint, India continued to indulge in ceasefire violations and urged the Indian side to respect the 2003 ceasefire agreement, investigate this and other such incidents, and maintain peace on the LoC and the Working Boundary.
A day earlier, a woman was martyred and two others sustained injuries when Indian forces resorted to unprovoked ceasefire violations in Khanjar sector of Azad Jammu and Kashmir.