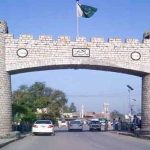 RAWALPINDI: Pakistan Army conducted another successful test fire of the indigenously developed Submarine Launched Cruise Missile (SLCM) Babur that possesses a range of 450 kilometers.
This was disclosed by DG ISPR in an official statement in which he revealed that the missile was capable of delivering various types of payloads.
"SLCM BABUR provides Pakistan credible second strike capability, augmenting the existing deterrence regime. The capability also reflects Pakistan's response to provocative nuclear strategies and postures being pursued in neighbourhood," read a tweet from Maj Gen Asif Ghafoor.
The missile was fired from an underwater dynamic platform, which successfully engaged its target with precise accuracy and met all flight parameters.