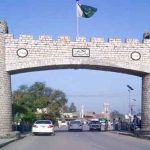 KARACHI: The third match of the three-match T20 series between Pakistan and West Indies will be played today in National Stadium, Karachi.
Pakistan has already won the series 2-0 by neutralizing the guests in both the matches with heavy margins. Pakistan also scored its highest total in T20I in the second match last evening by scoring 205 runs in 20 overs.
West Indies lost the first match by whopping 143 runs and the second match by 82 runs.
Pakistani Captain Sarfraz Ahmed said he was very happy on winning the series with great performances by youngsters.
Today, the match is expected to start at 7:30pm P.S.T.