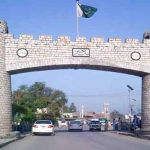 ISLAMABAD: Foreign Office has said that all measures are being taken for the assistance, safety and welfare of Pakistani nationals in China ever since the outbreak of coronavirus there.
At his weekly news briefing in Islamabad on Thursday, Foreign Office Spokesperson Aisha Farooqui said our embassy and consulates in China have reached out to all the Pakistani students. She said we are also in touch with the Chinese officials who have assured us about the safety and wellbeing of our nationals.
She thanked the Chinese authorities for extending best possible assistance to Pakistani nationals.
She pointed out that a high powered committee has also been established in which all the stakeholders are represented to constantly monitor the situation emerging from the outbreak of the virus.
The spokesperson strongly regretted that constant jingoistic rhetoric and war hysteria unleashed by the Indian leadership against Pakistan.
She said India is making desperate attempts to divert attention from growing domestic and international criticism of their discriminatory, anti-Kashmir and anti-minority policies. She said nobody should underestimate our resolve to effectively thwart any aspiration of aggression again Pakistan.
Expressing concerns over blatant human rights violations in occupied Kashmir, Aisha Farooqui urged the international community to take cognizance of the situation in the valley.
She said Pakistan is effectively raising the Kashmir dispute at the international level. She said our missions abroad have also prepared a comprehensive plan to fully observe the Kashmir solidarity day and draw world attention to the lingering dispute.
When asked about the US's Middle East Plan, the spokesperson said Pakistan has constantly supported a two state solution as per the relevant UN resolutions.
She renewed call for the establishment of a viable, independent and contiguous state of Palestine on the basis of internationally agreed parameters, the pre-1967 borders and with Al-Quds al Sharif as its capital.