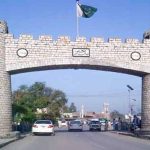 WASHINGTON: US President Donald Trump's administration would continue to apply pressure until Pakistan changes its old policy towards regional peace and stability in Afghanistan, said Henry Ensher, the Acting Deputy Assistant Secretary for Pakistan for the State Department.
Speaking during an event in Washington, Ensher said that the important bilateral linkage with the United States would be useful for Pakistan.
"In reality, we have seen some action but we have not seen the decisive steps from Pakistan that could ensure their territory cannot be used by terrorists.
He added that Pakistan's new civilian government led by Prime Minister Imran Khan has the opportunity to fix bilateral relations and be our partner in bringing peace and stability to Afghanistan and peace and security in Pakistan.
Eshner said that Pakistan could yield results in convincing Taliban for talks; however, it could play a constructive role in this connection.
He added that Pakistan could play a leading role in economy and politics of the region but, its policies at the moment were destabilizing the region.