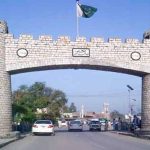 ISLAMABAD: Caretaker Minister for Finance Shamshad Akhtar has said that Pakistan would take all out steps to check any sort of financing, nurturing acts of terror.
She expressed these views during a meeting with Chinese Ambassador, Yao Jing who called on her in Islamabad.
The Minister briefly shared with the Chinese envoy Pakistan's standpoint on FATF issues presented at the recently concluded conference in Paris.
She said Pakistan has reiterated its commitment for taking all possible steps against terror financing and money laundering.
During the meeting they also discussed Pak-China economic cooperation in various sectors and also exchanged views on projects being undertaken under the ambit of CPEC.
Finance Minister highly appreciated the continued cooperation provided by China in economic development of the country.
In response Yao Jing lauded Pakistan's resolve to strengthen economy in the face of some challenges.
He said China would always stand by Pakistan wherever and whenever needed.