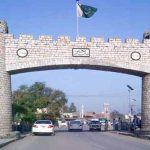 ISLAMABAD: Chairman Kashmir Committee Maulana Fazlur Rehman says Pakistan will continue its efforts to raise the Kashmir issue at international fora.
In an interview with PTV on Sunday, he urged the international community to play due role in implementation of UN resolutions regarding Kashmir issue.
He said Prime Minister Nawaz Sharif sent especial envoys to different countries to expose Indian atrocities and human rights violations which positively highlighted Pakistan's stance on Kashmir issue.