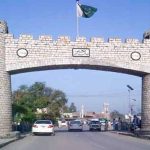 DUSHANBE: United Nations Secretary General Ban Ki-moon held a meeting with Prime Minister Nawaz Sharif in Dushanbe.
On the occasion, Prime Minister Nawaz Sharif said that Pakistan will continue its support to UN efforts for peace and stability in the world.
The Prime Minister said that Pakistan is the largest contributor in UN peace missions. He said role in UN peace contingents is an important part of Pakistan's foreign policy.
He said Pakistan is following zero tolerance policy against terrorism.