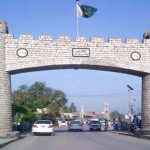 RAWALPINDI: Chief of Army Staff (COAS) General Raheel Sharif held China-Pakistan Economic Corridor (CPEC) project as the potential mainstay in national economy and vowed that pressure from any foreign powers against the CPEC will not be put up with and warned that Pakistan will deal with an iron fist with any threat to this project.
Addressing a ceremony held in connection with Defence Day at military headquarters here, he said internal and external threats are not over as the collusion between grave crimes and corruption pose stumbling block in eradication of terrorism in the country. "Operation Zarb-e-Azb is crucial for our existence and we will go to any length to win for the sake of national security," he added.
He underscored the need to put in action National Action Plan and remove all hurdles in acquisition of justice.
Kashmiri is Pakistan's jugular vein and any solution of Kashmir dispute is possible only through pursuance of United Nation resolution, he said.
"I want to make it clear over all the enemies of Pakistan that our defence is impregnable today", the army chief cleared over Pakistan s enemies.
"A few years ago, Pakistan's defences were under threat. North Waziristan was the hub of terrorists. But I always knew that Pakistan could fight the war and come out as the winner and we did".
He added that Pakistan army named the operation against the terrorists after Sword of Prophet Muhammad (s.a.w), a sword that could only be lifted to put brutality to an end.
COAS also paid rich tribute to the paramilitary forces and security agencies including Rangers, Levies, FC and others along with Pakistan army for fighting the war against terror. "Our brave soldiers conducted 19,000 operations inside the country. For others it might be a war against terrorism but for us it is a war for our survival and we'll go to any limits in order to secure our country", said Raheel Sharif.
General Raheel Sharif added, however, that the national security of Pakistan was still being threatened from inside and outside of Pakistan. He said that the nexus of corruption and terrorism was a serious threat to the country and could only be fought with the help of a unified strategy on part of all the institutions of the country.
"While the security forces are doing their best on the front against terrorism, still there are certain elements within the society that are trying to discourage the armed forces", he said.
Talking about Pakistan's relationship with Afghanistan, General Raheel Sharif said that Pakistan was sincere with its neighbor and brotherly Islamic country. He added that there were certain elements, completely unfaithful to Afghanistan, trying to thwart the attempts at restoring peace in Afghanistan.
"I salute the people of Kashmir for their undaunted sight for freedom. Pakistan will continue to provide Kashmiris with diplomatic and moral support. Kashmir is our jugular vein", said Raheel Sharif. He added that Pakistan was completely aware of whatever overt and coverts conspiracies its enemies were hatching against it and reiterated the resolve to thwart all attempts at damaging Pakistan.
"Pakistan knows how to keep friendships and deal with the enemies. China-Pakistan Economic Corridor (CPEC) is a clear example. Pakistan will deal with an iron fist with any threat to this project", he said.
COAS saluted the people of Balochistan and their resilience. He said that the determination of the Baloch people against terrorism was a morale booster for the army as well. "I want to let the enemy know that we know how to win and we also know how to sustain our victory", he said.