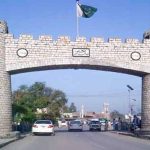 ISLAMABAD: Pakistan will formally request the United Kingdom to hand over Muttahida Qaumi Movement (MQM) founder in the Imran Farooq murder case.
The Ministry of Interior has sent a request for the MQM founder's custody to the Ministry of Foreign Affairs, sources said. The Foreign Ministry will forward the request to UK, local media reported on Monday.
Along with the request, the Ministry of Interior has also submitted the challan in the Imran Farooq murder case, the joint investigation team's report and related documents.
Farooq, 50, was stabbed to death outside his house in London on September 16, 2010.
A case pertaining to Farooq's murder has been registered in the Federal Investigation Agency's counter-terrorism wing. The MQM founder is wanted in the case.