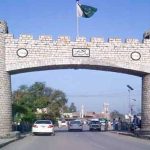 ISLAMABAD: Pakistan will hold a national dialogue on the Afghan peace in the last week of March to formulate a strategy, National Assembly Speaker Asad Qaiser announced on Wednesday.
The NA Speaker, while issuing the directives, said that the dialogue will focus on the situation in the war-torn country after the Afghan Taliban and US signed a peace deal.
The dialogue will also look at Pakistan's role in the whole process. The speaker hoped that the dialogue would draw out a future strategy to bring about peace in Afghanistan.
"Peace in Afghanistan will bring stability in the region," Speaker Qaiser said. He added that peace in Afghanistan was in the interest of Pakistan and the region.
The dialogue is expected to be held in the NA secretariat. Lawmakers, scholars, civil society activists and members of the media will also be invited to participate in the discussion.
Pakistan has constantly maintained that Islamabad seeks peace in Afghanistan as instability in the war-torn country is not in its interest.