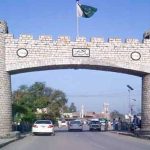 ISLAMABAD: Pakistan says it has taken all actions against proscribed outfits and terrorist elements without any discrimination in the larger national interest and in line with international obligations.
At his weekly news briefing in Islamabad on Thursday, Foreign Office Spokesperson Nafees Zakariya took a strong exception of the Indian external affairs ministry's statement on JUD Chief Hafiz Saeed's house arrest. He said India should take corrective measures for itself rather commenting on the affairs of other countries.
The spokesperson said there are irrefutable evidences that Indian state actions are involved in perpetrating terrorism in Pakistan. He reminded the Indian state institutions also carried out terrorism on Indian soil and blamed it on others. He said Pakistan's efforts against terrorism have also been acknowledged at the world level.
Expressing concerns over the ongoing human rights violations in occupied Kashmir, the spokesperson said India is trying to change demography of Occupied Kashmir and the international community should take notice of this development.
The spokesman said the UN and the world community has an obligation and should make vigorous efforts for the resolution of outstanding Kashmir dispute. This is vital to ensure peace and stability in the South Asian region.
He said OIC has been playing an effective role vis-a-vis Kashmir issue.
When asked about the Indian decision to increase defense expenditures by ten percent, the spokesperson said Pakistan is opposed to any conventional and nuclear arms race in the region. He said Pakistan is maintaining minimum deterrence for its self-defence. He described the Indian arms buying spree as a threat to region adding Pakistan does not want to indulge in any arms race.
When asked about the new US visa policy, the spokesperson said it is every country's sovereign right to decide its immigration policy but such decisions are not without humanitarian and political dimensions that need to be looked at and considered in going forward. He emphasized the need that the countries need to adopt policies that are not susceptible to be exploited by entities wishing to see cracks in the coalition against terrorism along religious lines. He said Pakistan looks forward to strengthening relations with the US.
To a question about Afghan situation, Nafees Zakariya said that it has been steadfast policy of Pakistan to have strong relations with Afghanistan. Peace in Afghanistan actually is in the interest of Pakistan. He said we believe there is no military solution to the Afghan problem and the way forward is a politically negotiated settlement. He said Pakistan has been making efforts for bringing the Taliban to the table of negotiations with the Afghan government.
Earlier in his opening statement, the spokesperson said Pakistan is hosting 13th meeting of the ECO on the first of next month. It will be preceded by the 22nd meeting of the ECO Council of Foreign Ministers on 28th of this month and senior officials a day earlier.