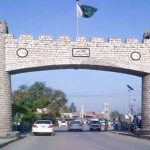 ISLAMABAD: Foreign Office (FO) Spokesperson Dr Muhammad Faisal has said that Pakistan would implement the action plan negotiated with the Financial Action Task Force (FATF) to address concerns of the international community.
Addressing weekly news briefing in Islamabad this afternoon, he said we had announced in February last that Pakistan will implement the action plan after negotiation with the FATF, while remaining in the grey list.
He ruled out any chance of placing Pakistan in FATF's black list.
To a question, he said regretted European Union's approach of ignoring gross human rights violations in Indian occupied Kashmir as was reported by UN Commissioner's report on human rights.
He called upon the EU countries to support UN report on gross violations of human rights in occupied Kashmir by the Indian forces.
Answering another question, he said Pakistan-US relations are on upward trajectory.
Replying to a questioner, the spokesperson said a peaceful and stable Afghanistan is in the best interest of Pakistan as well as the entire region.
He said Pakistan has always supported an Afghan owned and Afghan-led peace process.