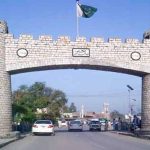 ISLAMABAD: The Foreign Office has said that Pakistan won't reopen Kartarpur border and discuss any matter with India until talks are held between the two countries.
In a weekly press briefing on Thursday, the FO Spokesperson Dr Muhammad Faisal said Pakistan believed in peaceful ties with neighbours and had made efforts to convince India to hold talks.
Regarding Indian aggression in occupied Kashmir, Dr Faisal said the neighbouring country was using chemical weapons in the occupied territory.
He said that Pakistan strongly condemned Indian aggression in Kashmir valley and added that Islamabad wanted to resolve the Kashmir issue as per the aspirations of the Kashmiri people.
He also said that Pakistan would present a strong case against Indian spy Kulbhushan Jadhav in The International Court of Justice (ICJ) where the proceedings of the case would take place in February 2019.
The foreign office reiterated Pakistan would not compromise on matters pertaining to national interest.
Commenting on Foreign Minister Shah Mahmood Qureshi's recent visit to the US, Dr Faisal said in a meeting with the Pakistani minister, the US Secretary of State Mike Pompeo praised Pakistan's role in establishing peace in Afghanistan.
The foreign office confirmed that Qureshi met with the president of the World Bank and added that the foreign minister discussed the Indus Waters Treaty and the disputed Kishanganga dam issue in the meeting.