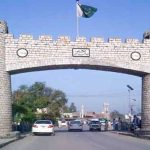 LAYYAH: Pakistan Tehreek-e-Insaf (PTI) chief Imran Khan has said on Monday that the federal government of PTI after General Elections 2018, would have Pakistan regain its lost respect.
While addressing a rally in Layyah, Imran Khan said that the government of PTI would invest in people first and then move to developing the infrastructure. He said that the nations who do not learn from their mistakes do not succeed. He said that Malaysians learnt from Pakistan and progressed ahead past us.
PTI chief said that the government of PTI, if comes in power, would have green passport respected more than developed countries in the world. He claimed that Pakistan would be preferred by nationals of other countries for employment opportunities.
Imran Khan criticised the government of Punjab by saying that PTI would 'invest in people' first and then move to developing the infrastructure.
PTI chief cited Japan and Germany when he said that education should be the priority when a government is investing for better lives of the people.
"When our party comes in power, policies will change and the aim will be to out an end to poverty," said Imran.
The state imparts education to only a small portion of the society, said Imran.
"We will invest first on the people, then on metro and other underpasses," remarked the PTI chief, taking aim at the recent unveiling of development projects in Punjab.
He said Pakistan will turn into a country where foreign graduates will come for job opportunities.
"This country will become exemplary," he said. The PTI chief further said that the country will turn into a tourist heaven similar to Switzerland.
Imran said that his case is also in the Supreme Court, but there exists no parallels between his case and the Panama case.
"Nawaz don't compare yourself with me, if you have to do the comparison the do it with Sultana Daku, Philippines' Marcos, Gaddafi etc," commented Imran.
The PTI chief said Nawaz Sharif claimed that he is an ideology. "Nawaz simply has a simple ideology, which is to rig the elections, come into power and embezzle money," stated Imran.
Prior to the start of the rally, the crowd jostled with each other in attempt to get closer to the stage. The mismanagement delayed the start of the event.
Ahead of the party chairman's visit, the city was decorated with party flags, banners by the local party leadership, especially on the road going towards the Jalsa venue, Sports Complex.
Party leaders and workers from the district and nearby areas gathered to attend the public gathering today. Workers came to the venue in small rallies.