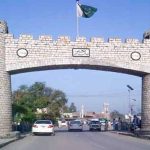 ISLAMABAD: Spokesperson to Prime Minister Dr. Musadik Malik says Pakistan would start receiving LNG at one of the lowest rates in the world within sixty days.
Addressing a news conference in Islamabad on Thursday evening, he said the contract for import of LNG with Qatar would help meet 25% gas requirements of the country.
The Spokesperson said the deal would also help accelerate the pace of economic development, increase electricity generation and enhance fertilizer production.
To a question, he said the price of LNG from Qatar would be less than the price of gas under TAPI and IP gas pipeline projects. He said India too has entered into a contract for import of LNG at 35 to 37% higher rates than Pakistan.
Responding to another question, Dr. Musadik Malik said all five LNG terminals would be established in the country.
He said another terminal at Karachi would become operational by the end of next year. Country's largest LNG terminal to be built at Gwadar will have a capacity of process one billion cubic feet of gas.
The spokesperson said a pipeline is being laid between Nawab Shah and Gwadar and with its completion there would remain only 80 kilometre portion to accomplish the IP gas pipeline project.