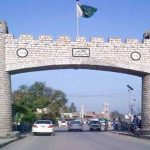 KARACHI: A 21-member Pakistan squad, including six officials, left for Colombo from Karachi on Tuesday to take part in the U19 Asia Cup.
The squad, led by Nasir Nawaz, includes some of the country's most promising youngsters in the revamped national team that has been selected keeping in mind the 2018 International Cricket Council (ICC) U19 World Cup — according to an Asian Cricket Council (ACC) ruling, only players eligible to play the World Cup are allowed to play the Asia Cup.
Pakistan have been drafted in Pool B alongside Afghanistan, Bangladesh and Singapore.
The Boys in Green will play their opening match against Singapore at the Galle International Stadium on Thursday followed by ties against Afghanistan on Friday and Bangladesh on Sunday.
The two semi-finals will be played on December 20 and 21 while the final is scheduled to take place on December 23.
A total of eight teams, including Pakistan's arch-rivals India and hosts Sri Lanka, are going to compete in the tournament.
Pakistan head coach Mansoor Rana feels his side boasts the strength and the depth to win the tournament.
"At the U19 level it becomes quite a challenge to prepare, especially when you are not sure about the opposition's strength and weaknesses. However, I feel that we have a good enough team that can win the tournament. In the longer run, our focus would be on preparing adequately for the 2018 World Cup and giving our players maximum exposure in Sri Lanka," he said.
Rana's assistant and coach of domestic side Peshawar, Abdur Rehman, echoed Rana's sentiments and revealed that the players have been working hard to improve their game.
"For nearly a month we have divided our time equally between batting, bowling and fielding sessions. This team has some quality fielders and I am confident that they will display their skills on the field during the tournament," said Rehman.
Nadeem Khan, a former Test left-arm spinner and brother of former captain Moin Khan, has been appointed as manager of the team.