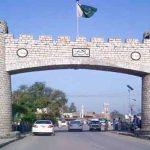 LAHORE: The Indian High Commission has denied issuing visas to Pakistan's under-17 wrestling team, which was due to partake in an Asian-level championship in New Delhi this week.
According to details, the Asia Cadet Wrestling Championship is set to be held on June 10-14 in the Indian federal capital.
The young Pakistani wrestlers, who were well-prepared to take on the challenge, are deprived of experiencing an international exposure due to diplomatic anomalies existed between the two South Asian neighbours.