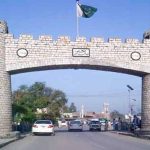 RAWALPINDI: Army chief Gen Qamar Javed Bajwa and US peace envoy in a meeting on Sunday reiterated their resolve to continue working towards peace in Afghanistan, a statement by the military's media wing said.
According to the statement: "Ambassador Zalmay Khalilzad, US Special Representative for Afghan Reconciliation called on General Qamar Javed Bajwa, Chief of Army Staff (COAS), today."
It said that during the meeting "matters of mutual interest" came under discussion as well as the overall regional security situation.
This included an exchange on "Afghan refugees issue and the Afghan reconciliation process", said the statement.
The two also discussed the Pak-Afghan border management.
"Both shared steps taken in this regard and agreed to continue working towards mutually agreed goals," the statement concluded by saying.
On June 2, Khalilzad said he is positive that the Taliban and the Afghan government would begin peace talks with the US pulling out troops if things pan out as scheduled.
The Afghan government has been speeding up the release of prisoners, a key condition for the Taliban, after a ceasefire for the Eid-ul-Fitr holiday followed by a continued lull in fighting.
"There's been a lot of progress in the last few days," said Khalilzad who negotiated a deal with the Taliban in which Washington plans to end its longest-ever war.
"A lot of people have been pessimistic that we could get to this place where we're discussing where and when inter-Afghan negotiations would begin and that there would be enough progress on the prisoners issue," he told reporters.
But he did not set a date and cautioned that "still more needs to be done" on freeing prisoners.