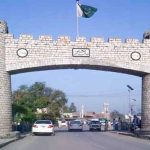 WASHINGTON: US Special Representative for Commercial and Business Affairs Dilawar Syed has said there are significant opportunities to enhance bilateral trade between Pakistan and the United States.
He made the remarks during a meeting with Commerce Minister Syed Naveed Qamar in Washington.
Matters pertaining to Pak-US bilateral trade, foreign direct investments in Pakistan,  business operation of the US companies working in the country and Pakistani exports to the US were discussed during the meeting.
Naveed Qamar welcomed the resumption of Pakistan-Trade Investment Framework Agreement ministerial meeting  after a gap of almost eight years, terming it critical towards enhancing bilateral trade ties.
The Commerce Minister said Pakistan looks forward  to a greater interaction with the US especially in the areas of IT, tech, agriculture and other sectors.
It was decided to appoint a focal person, on both sides, to prioritize, coordinate and ensure removal of impediments for smooth functioning of the businesses.
Pakistan's Ambassador to the United States Masood Khan, Secretary Commerce Muhammad Sualeh Ahmad Faruqui, Secretary BOI Asad Gilani and Azmat Mahmood assisted the Commerce Minister.  Dilawar Sayed was accompanied by Elizabeth Horst, Principal Deputy Assistant Secretary and Deputy Assistant Secretary for Pakistan, Brian J. McGrath and Jeff Rubenstein.