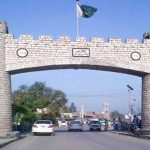 ISLAMABAD: Foreign Minister Shah Mahmood Qureshi on Monday said that Pakistan does not want to be war frenzy, however, Pakistan would respond to India's "act of aggression" of violating the de facto border between the two nuclear-armed neighbours.
Talking to media in Islamabad on Monday, he said that some forces were obstructing the peace process in Afghanistan, adding that one of the culprits is in our neighborhood.
The foreign minister said that an agreement has been reached between Afghan President Ashraf Ghani and Abdullah Abdullah, adding that negotiations between Afghan groups are also essential for lasting peace in Afghanistan.
"The process of release of prisoners in Afghanistan must be accelerated," he said and added a conducive environment is needed for peace, in which everyone has a role to play.
Qureshi went on to say that more than 100,000 Pakistanis including students and labourers stranded abroad have contacted to return home.